SEED STORY
The first letter from Jeju Island, Dangyuja
'Dangyuja' that Deardot paid attention
A conservation project for endangered species Dangyuja:
A fruit tree of the Rutaceae family (evergreen broad-leaved small tree), a cultivated plant of the citrus fruit and a pure pomelo (C. maxima) cultivar, not a hybrid and Korean native plants, with the following effects.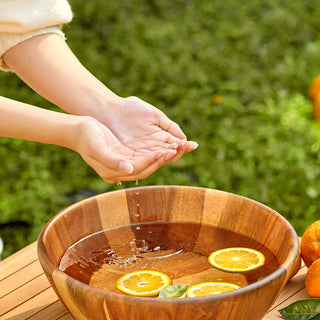 Q. What kind of a plant is 'Dangyuja' thatDeardot discovered as the first species?
A. Dangyuja is a citrus fruit in Jeju Island, Korea.
It has been used for health and beauty in folk remedies since ancient times. It was a valuable fruit served for ancestral rites and one of the gifts for the king during the Joseon Dynasty.
Q. Why did Deardot pay attention to 'Dangyuja'?
A. As species with high sugar content gained popularity were introduced, the number of farms growing traditional tangerines, including Dangyuja, decreased.
However, Dangyuja is a natural antioxidant that contains twice the organic acids and four times the vitamin C in lemon.
It is not only effective for wrinkle improvement, moisturizing, brightening, skin regeneration but also alleviation in atopic inflammation.
It is incomparably the best cosmetic ingredient.
ᅠ
ᅠ
Q. What makes Deardot discover disappearing plantspecies and use it as a cosmetic ingredients?
A. The need to preserve crop diversity must be known to the public to preserve it.
If value is given to species and their demand is generated, the environment for seed cultivation is naturally created, and a virtuous cycle that is beneficial to both nature and people begins.
Q. What kind of Dangyuja cosmetics can be found at Deardot?
Deardot has proven its brand value, potential and performance by obtaining global
certifications such as Vegan Society, PETA, EWG, Certiclean® and excellent grade in German Dermatest.
The performance of Deardot has been recognized as the company has been striving to
develop the right corporate culture that fulfills social responsibility including seed donation, zero waste, performance sharing, technology escrow, and gender equality.